Welcome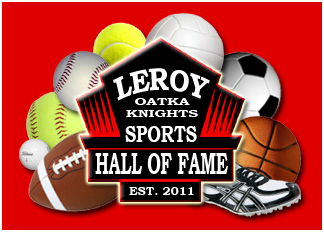 Welcome to the web site for the LeRoy Oatka Knights Sports Hall of Fame, Inc..

Athletics at Le Roy High School has a long and proud tradition. The purpose of the Corporation is to honor former Le Roy High School athletes, teams, coaches and others who have excelled in their role and brought pride to themselves, to Le Roy High School and to the community. The induction will take place every two years unless changed by the Board of Directors by majority vote.

The Le Roy Oatka Knights Sports Hall of Fame, Inc. was initially created and funded by group of eight founders. The funding was meant to help the organization establish itself in its earlier years until it can be self-sustaining. The organization is not affiliated with Le Roy High School or any other organization.



2016 Induction Ceremony

The ceremony for the 2016 class of Hall of Fame inductees was:
FRIDAY, JULY 15th 2016
9:30 AM - LeRoy Central School Auditorium
South St. Rd., LeRoy, NY 14482

Grand Speaker JIM RUDGERS
honored the following:
| | |
| --- | --- |
| JOE CRNKOVICH | 1995 LR VAR FOOTBALL |
| 1966 LR VARSITY BASEBALL | BETSY LAPP-BLACKWELL |
| AMY LAPP-HARDISON | JOHN EPPOLITO |
| JOE CONDIDORIO SR. | JON GERLACH |
| WAYNE ALEXANDER | BOB WOODRUFF |
2014 Induction Ceremony

The ceremony for the 2014 class of Hall of Fame inductees was:
FRIDAY, JULY 18th 2014
9:30 AM - LeRoy Central School Auditorium
South St. Rd., LeRoy, NY 14482

Special guest RICH FUNKE honored the following:
| | |
| --- | --- |
| CLARENCE "GOOEY" LAPP | RUSSELL "SATCH" O'GEEN |
| DAN SHIRLEY | MORRIS ALEXANDER |
| JOE "BULLDOG" ANTINORE | '62-63 LR VARSITY BASKETBALL TEAM |
| TAMI SPENCER-LOFTUS | 1966 LR VARSITY FOOTBALL TEAM |
2012 Induction Ceremony

The ceremony for the inaugural 2012 class of Hall of Fame inductees was:
FRIDAY, JULY 13th 2012
9:30 AM - LeRoy Holy Family School Gymnasium
44 Lake St., LeRoy, NY 14482

Special guest RICH FUNKE honored the following:
| | |
| --- | --- |
| MISSY WOODRUFF | ED REIFSTECK |
| TIM McCULLEY | VINCENT "BOOMER" SCOTT |
| JAMES "PAT" McGRATH | ALAN TOMIDY |
| ED MILLS | ED WALSH |
| BERT PANGRAZIO | 1943 LEROY VARSITY FOOTBALL TEAM |